Why Ultra
Our Range of Pet Food Products
Ultra Pet Foods offers a range of five different premium dog foods plus a joint supplement product.
Our Products Include:
Ultra Adult - a full maintenance feed for adult dogs older than 9months.
Ultra Active - a high-energy formula suited for working or high-performance dogs.
Ultra Puppy - an essential growth formula for young dogs.
Ultra Fish and Rice Formula - developed for dogs with pancreatic & liver problems.
Ultra Fish and Potato - developed for dogs with allergies to red meat and some grains.
Ultra Joint Supplement - a formula that can help to relieve the pain of joint problems.
Ultra brand products have a high digestibility rate, resulting in less waste, and a constant level of protein and vitamins. Cheaper brands of food tend to have cheaper cuts of meat and more grains acting as fillers.
FRESHNESS

All foods deteriorate (oxidize) when exposed to air. This action can be slowed by various means, but never completely halted. There are basically 2 forms of anti oxidants (preservatives) available to pet food manufacturers.

MINERALS

Minerals come in 3 forms, chelated (or proteinated) sulphates and oxides. Chelated are more easily absorbed by the dog than oxides and sulphates, but however are a lot more expensive. At Ultra, quality is paramount, so we use all chelated minerals.

EXTRUDED v BAKED

Most of us know that the longer you cook a food, the more you reduce the nutritional benefits. At Ultra we extrude the food, which means that it is cooked under pressure by direct steam injection in less than 30 seconds, compared to the up to 40 minutes required to bake a biscuit.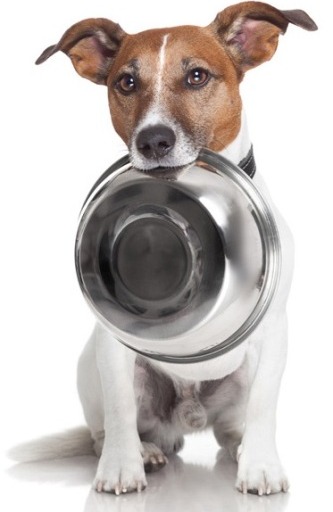 PRICE

In these days of tight economic conditions we all have to get best value for money. Because we manufacture in New Zealand, from locally sourced raw materials, we save international freight costs, biosecurity and custom clearance charges, and the importers costs.

COMPLETE V PREMIUM

A complete food contains all the necessary nutrients (protein, fats, minerals vitamins etc) necessary, but there is no control over where those nutrients are obtained. One batch may have most of the protein from assorted meats, the next from assorted cereals.

LIST OF INGREDIENTS

Some manufacturers say that the first ingredient must be meat based. This is not true. Two of the first three should be meat based. Consider the following formulae.
Why is Premium Dry Dog Food (Kibble) more expensive than everyday Dog Biscuits?
The main difference with Premium Dry Dog Food is that it is a 'complete food' of meat and vegetables with all the necessary vitamins & nutrients. Ultra has been formulated in New Zealand to ensure Kiwi dogs are kept happy and healthy.

The other main difference of Premium Dry Dog Food is their higher digestibility. For instance, a premium dry pet food might have an 80% digestibility as opposed to say, 40% for a cheaper dog biscuit.

This means that for every 100gm of premium food fed and eaten, 80gm is digested and only 20gm ends up as poop. The same amount of the cheaper brand would end up with only 40gm digested and 60gm of poop.

The digestibility is affected by the type of protein, meat and ingredients in the food. Cheaper foods tend to have cheaper cuts of meat and more grains acting as fillers.

Premium food also have more constant levels of protein and vitamins, and also tend to state and guarantee what their protein content is derived from. If they state beef, that is what your pet gets.

Many cheaper brands will only claim animal proteins or by-products, so it's a gamble as to what you may get from one packet to the next.

And the higher quality and level of vitamins and minerals will usually leave them with a noticeably glossier coat and higher energy levels.

Ultra sources all ingredients locally, such as beef & fish protein keeping your dog in top condition because this is a complete meal - Just need water & the odd cannon bone.
Why is Premium Dry Dog Food (Kibble) more expensive than everyday Dog Biscuits?
BEEF MEAL Manufactured from New Zealand grass fed cattle processed at a plant licensed to produce beef for the human consumption.

FISH MEAL Produced from fish caught in New Zealand waters, thus free from heavy metal contamination, and preserved with vitamins C & E, rosemary, and citric acid, unlike some North American fish meal which is preserved with ethoxyquin.

BLOOD MEAL Natures richest source of animal protein, produced in New Zealand.

RICE Organically certified rice produced in Pakistan.

CORN harvested from New Zealand crops, thus free from G E modifications.

TALLOW purchased directly from the renderer associated with a plant who produce for human consumption, and preserved with vitamins C & E, rosemary, citric acid.

FISH OIL from fish caught in New Zealand waters, and preserved with vitamins C & E , rosemary and citric acid.

FLAX SEED grown in the South Island of New Zealand.

MINERALS only chelated vitamins are used in our products. No oxides or sulphates, thus ensuring that your dog can readily absorb the necessary all the vitamins he needs.

OREGANO tests carried out by Meridan Animal Health Co in the UK show that oregano assists gut health, thus giving better digestion, less diarrhea, and so less stress.
A Complete, Fully Balanced Diet
Extruded Not Baked


Minimum loss of nutrients and vitamins due to the short cooking time

No Artificial Colours, Flavours or Preservatives


Antioxidants are Natural tocopherols, Rosemary, Citric Acid

Enriched with Omega 3, Omega 6, Garlic, Kelp and Rosemary


For a shiny, healthy coat, and to help your dog resist disease and infection

All raw materials sourced in NZ, wherever possible from the human food chain, and GE free


As natural as possible, no byproducts

A Premium Quality Dog Food that everyone can afford


NZ made, No imports costs, no fancy packaging, and no middleman
Nationwide Delivery
Customers can purchase Ultra brand products online from www.ultrapetfood.nz
"You place the order online and we will deliver our products to your door!"